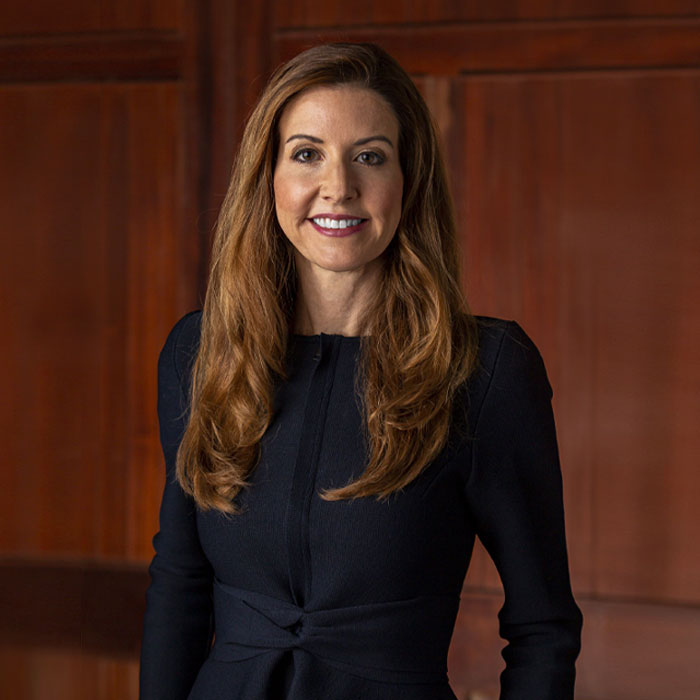 Contact Nina Fields Britt
Office:
Mount Pleasant, South Carolina
Phone:
843-727-6542
Toll Free:
888-293-6883
Fax:
843-216-6509
E-mail:
nfields@rpwb.com
Areas of Practice
Nina Fields Britt
Managing Attorney
Nina Fields Britt is a RPWB member who focuses on complex legal matters to combat unfair and illegal business practices throughout the United States.  Her primary areas of litigation include class action lawsuits on behalf of consumers, insureds, and small businesses as well as complex litigation on behalf of businesses and individuals. She also currently serves as RPWB's managing attorney.
Her work on behalf of consumers harmed by illegal and unscrupulous corporate conduct brings justice to her clients and is as a deterrent to widespread corporate wrongdoing. She enjoys the intellectual challenge of analyzing and arguing complicated legal matters that have real-world implications for millions of Americans.
Born and raised in Seneca, S.C., Nina's father was a small town lawyer who also served as mayor and other elected and appointed positions. Seeing the positive impact her father had on their community had a profound influence on Nina and led her to pursue a career in law. She graduated cum laude from the College of Charleston and then finished near the top of her class at the University of South Carolina School of Law.
Following law school, Nina clerked for the Honorable G. Ross Anderson, Jr., United States District Judge for the District of South Carolina, before joining Ness, Motley, Loadholt, Richardson & Poole, where she worked on Michael Brickman's litigation team. In 2002, she joined Richardson, Patrick, Westbrook & Brickman (now Rogers, Patrick, Westbrook & Brickman, LLC).
Nina lives in downtown Charleston with her son, James. She enjoys travel with friends and family, being involved in her son's school in downtown Charleston, and needlepointing.  She hopes that she soon will be able to take up her favorite hobby–horseback riding–again. Following in her father's footsteps as a devoted Gamecock, she has served on the University of South Carolina's Board of Visitors since 2018.
Class Actions
Unfair and Deceptive Trade
Mutual Fund Litigation
Securities Fraud
Tobacco
Complex Business Litigation
2000, South Carolina
2002, U.S. District Court, District of South Carolina
2009, U.S. Supreme Court
2011, U.S. Court of Appeals, Fourth Circuit
2011, U.S. District Court, Eastern District of Wisconsin
2011, U.S. District Court, Northern District of Florida
University of South Carolina, J.D., magna cum laude, 2000
College of Charleston, B.S., cum laude, 1997
Professional Memberships
+
Charleston County Bar Association
South Carolina Association for Justice
South Carolina Women Lawyers
South Carolina Bar
South Carolina Super Lawyers, Rising Stars (2012-2014)
Finalist, Trial Lawyer of the Year by Trial Lawyers for Public Justice (2003)
Contributing Author/Editor, 2022 Survey of Federal Class Action Law: A U.S. Supreme Court and Circuit-by-Circuit Analysis, A.B.A. Section of Litigation (forthcoming 2022)
John Greabe, Michael Brickman, James C. Bradley & Nina H. Fields, Moving Beyond Gartenberg: A Process-Based and Comparative Approach to § 36(b) of the Investment Company Act of 1940, 28 Ann Rev. Banking & Fin. L. 133 (2008)
Nina H. Fields , Note, The Sale of a Law Practice in South Carolina: The Impact of Model Rule 1.17 on Solo Practitioners and Their Clients, 50 S.C. Law Rev. 1029 (1999)
Mutual Fund Litigation
As fund assets grow, the cost of managing a mutual fund does not increase at the same rate as revenues generated by fees do. Nina has served as counsel in cases on behalf of investors against mutual fund advisors for charging excessive fees. A number of her cases have resulted in settlements to investors, and her work has caused some mutual funds to initiate reforms, including fee breakpoints and better oversight by boards of directors. The litigation included appeals to federal circuit courts and the United States Supreme Court, which resulted in a unanimous reversal of a Seventh Circuit opinion in Jones v. Harris Associates L.P., 559 U.S. 335 (2010)
Diminished Value Cases
After a loss, even fully repaired homes are worth less than they were prior to the damage. Nina represented Georgia homeowners suing insurance companies for failure to provide diminished value coverage that, under Georgia law, is part of homeowners insurance. Our litigation helped hundreds of thousands of homeowners get the coverage to which they were entitled.
Insurance Industry Risk Calculations
Nina was counsel in class action litigation against AIG for its methodology of calculating a company's risk when determining workers' compensation premiums. The insurance company used a rolling three-year average of paid claims but failed to consider the portion of those claims ultimately recouped from the at-fault party's insurance company and other sources.
Motor Fuel Sales Practices Litigation
Nina served as counsel and was a member of various committees in multi-district litigation against oil companies and gas station operators for failing to account for the temperature of gasoline and its effect on the value of the gasoline sold to consumers. This litigation resulted in settlements with some gasoline retailers that obligated them to modify their sales practices.
In addition to complex securities litigation and class actions, Nina also represents individuals in personal injury and wrongful death actions and businesses in complex disputes.