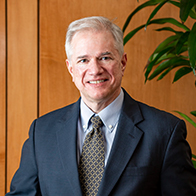 Contact Jerry Hudson Evans
Office:
Mount Pleasant, South Carolina
Phone:
843-727-6534
Toll Free:
888-293-6883
Fax:
843-216-6509
E-mail:
jevans@rpwb.com
Areas of Practice
Jerry Hudson Evans
Of Counsel
Jerry Evans, a mass torts attorney at RPWB, works to achieve justice on behalf of injured workers and others who have been wronged by corporate conduct.
Born in rural Pickens County, South Carolina, Evans was an accomplished orchestral musician before embarking on a career in law. He earned music degrees from the Eastman School of Music and Indiana University.  He graduated from the University of South Carolina School of Law in 1996 and joined Ness, Motley, Loadholt, Richardson & Poole in 1997 to work on the firm's national tobacco litigation. In 2002, he began working for RPWB.
Evans is a member of the bar in South Carolina. He is a certified circuit court mediator in South Carolina and serves as a foreign legal consultant to several Canadian provinces regarding tobacco litigation.  He is an active member of the American Constitution Society, a progressive law and policy organization.
He is an avid supporter of the performing arts, and is a board member of the Charleston Symphony Orchestra.  Evans also sits on the Board of Directors of American Voices, a non-profit cultural exchange that fosters the arts in conflict zones.  He is married to Stephen Bajjaly.
1996, South Carolina
2005, U.S. Virgin Islands (inactive)
U.S. District Court, District of South Carolina
U.S. Court of Appeals, Fourth Circuit
University of South Carolina, J.D., cum laude, 1996
Eastman School of Music, B.M., 1981
Indiana University, M.M., 1984
Professional Memberships
+
American Constitution Society
South Carolina Association for Justice
South Carolina Bar
American Voices
Commissioner Department of Planning & Natural Resources v. Century Alumina Company
For decades, two industrial facilities on St. Croix polluted the island's aquifer and the surrounding area.  In actions seeking  natural resource damages and remediation, defendants Hess Oil Virgin Islands Company, Hovensa,  Lockheed Martin, Alcoa World Alumina, and St Croix Alumina agreed to pay millions in damages to the government of the Virgin Islands and embark on extensive environmental clean-up that is still on-going.
Catalyst Dust Litigation
Evans represented a group of 80 refinery workers who sued Hess Oil Virgin Islands Company on St. Croix after developing occupational lung disease as a result of being exposed to catalyst dust, which includes heavy metals such as nickel, platinum and cobalt. Following a month-long trial in 2010, the cases were settled just prior to jury deliberations.