Amtrak Train Crash in Cayce, SC
+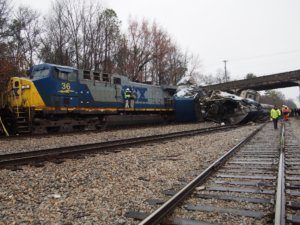 RPWB attorney Dave Butler represent passengers injured in the Feb. 4, 2018 Amtrak train wreck in Cayce, South Carolina that sadly killed two railroad employees and injured more than 100 passengers. If you or a loved one was injured in the crash, please contact us immediately to learn about your rights and the potential for compensation.
In the early morning hours of Feb. 4, the passenger train was travelling nearly 50 mph when it suddenly veered from the main line and slammed into a parked CSX freight train, killing the two conductors and injuring more than 100 passengers. Many of those on board were rousted from their sleep in most violent fashion. Initial comments made by NTSB investigators indicate the cause of the wreck was an improperly aligned switch. Warning signals were apparently out of commission at the time due to a long overdue conversion to positive train control safety measures.
Despite a 2008 legal mandate to implement positive train control measures, or the ability to monitor and control trains and tracks remotely, less than 50 percent of our nation's railways have made the conversion. The current deadline at the end of this year likely will be extended to 2020.
A recent search of the Federal Railroad Administration's accident database indicates that improperly aligned switches remain a leading cause of train crashes. Between January 2012 and November 2017, there were 2,038 incidents reported in which a switch was improperly aligned.
The February train crash in Cayce demonstrates the real human toll of these preventable errors that occur all too frequently throughout the United States. It caused the most damage of the past 150 South Carolina rail incidents since 2008 combined, according to the NTSB preliminary report released on February 28, 2018.. We hope that it serves as a wake-up call that the railroad industry needs to move faster and more thoughtfully on implementing this technology.
It was also a switching error that led to South Carolina's largest train disaster. In January 2005, a freight train carrying hazardous materials was diverted off the mainline and struck a parked train in Graniteville. The wreck and explosion killed nine people, injured more than 250 people and destroyed a significant part of Avondale Mills. Chlorine gas released during the crash forced 5,400 people from their homes. Terry Richardson served as co-lead counsel of the consolidated litigation, and was assisted by Dave Butler.
It saddens us how little has changed since Graniteville. We urge railroad companies and the federal government to speed up efforts to improve railroad safety. In the meantime, we will continue to do our part by holding railroad companies accountable in court.
Recovering damages for railroad employees
+
RPWB attorneys can also help railroad employees injured in work-related accidents or suffering from occupational diseases. We can file suit against employers or other railroad employees under the Federal Employers Liability Act (FELA). These are not workers' compensation actions. And, unlike workers' compensation actions, in a FELA action, if negligence is proven, workers can receive much higher amounts. RPWB attorneys have represented railroad workers in such cases with significant success.
Start Your Free Case Review
Give Us A Call
Our Experienced Lawyers