EzriCare & Delsam Pharma Eye Drops Lawsuit
Eye Drops Linked To Widening Infection Probe
EzriCare® and Delsam Pharma® Artificial Tears — both brands of over-the-counter eye drops— have recently been linked to a rare infection, causing some users to lose vision and even have their eyeball removed. One person has died from the infection.
The Centers for Disease Control and Prevention (CDC) found a bacteria called carbapenem-resistant Pseudomonas aeruginosa (CRPA) in EzriCare's and Delsam's lubricant eye drops. As of March 2023, the CDC has identified 68 patients across 16 states with a rare strain of Pseudomonas aeruginosa.
The strain had never been found in the US before this latest outbreak.
In response to the outbreak, the CDC warned people in January 2023 to stop using EzriCare Artificial Tears and Delsam Pharma's Artificial Tears. The following month, Global Pharma – the owner of the brands – issued a voluntary recall after one was recommended by the Food & Drug Administration.
Open bottles of the eyedrops received from infection patients have tested positive for CRPA bacteria. Unopened bottles are currently being tested to determine whether contamination occurred during the manufacturing process in India.
If you or a loved one developed an eye infection or experienced vision loss after using EzriCare or Delsam Pharma Artificial Tears, you may be able to pursue compensation. RPWB's experienced pharmaceutical team can help you pursue a lawsuit for your injuries. Contact us today to learn more.
Begin your eye drops lawsuit case review
Or you may call us at 1-888-293-6883
I use EzriCare or Delsam eye drops, what do I do?
Global Pharma Healthcare — the manufacturer of Delsam and EzriCare Artificial Tears — issued a recall of their lubricating eye drops and ointment in February 2023.
Eye drops that may be contaminated with CRPA are labeled with the following product codes:
Ezricare NDC 79503-0101-15, UPC 3 79503 10115 7
Delsam Pharma's NDC 72570-121-15, UPC 3 72570 12115 8
At the end of February 2023, the recall was expanded to include Delsam Pharma's Artificial Eye Ointment due to a fear of the same contamination issues as the eye drops.
Doctors and patients are urged to immediately halt the use of EzriCare's eye drops and dispose of the product at this time. If you have experienced symptoms of an infection, please save the bottle for future testing and seek medical attention immediately.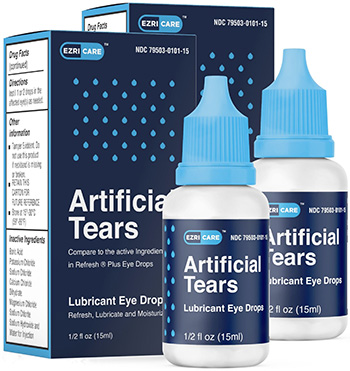 What Is Carbapenem-Resistant Pseudomonas Aeruginosa (CRPA)?
Carbapenem-resistant Pseudomonas aeruginosa are bacteria resistant to carbapenem antibiotics, making them difficult to control and treat. CRPA can cause infections throughout the body, including in the eyes, blood and lungs.
Eye infections related to CRPA can cause pain, vision loss or other infections. CRPA infections have limited treatment options, so it in imperative to seek medical treatment as soon as possible if you believe your infection was caused by CRPA.
Symptoms of CRPA
Using eye drops that contain CRPA can cause serious health issues to develop, including eye infections. Symptoms of eye infections include discharge from the eye, eye pain or discomfort, blurred vision and increased light sensitivity.
Eye infections caused by CRPA may cause:
Pink Eye (conjunctivitis)
Inflammation of intraocular fluids (endophthalmitis)
Inflammation of the cornea (keratitis)
Pain or vision loss
Other infections
Death
If you or a loved one experienced any of these health issues after using Delsam or EzriCare Artificial Tears, you may be able to file an EzriCare lawsuit and pursue compensation. Contact RPWB's experienced pharmaceutical attorneys today to begin your free, no obligation case review.
Why choose RPWB for your EzriCare or Delsam eye drops lawsuit?
RPWB's pharmaceutical team has a wealth of experience with product liability cases in which people are injured or harmed through no fault of their own. RPWB is a 2023 U.S. News & World Report Best Law Firm for national mass torts and class actions. Our attorneys are frequently chosen to serve in leadership of large, complex national lawsuits.
Give us a call or submit a request through this website to begin your free case review. We'll walk you through the process and will answer all of your questions to help put your mind at ease.
Our Experienced Lawyers