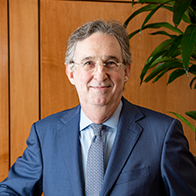 Contact Michael J. Brickman
Office:
Charleston, South Carolina
Phone:
843-727-6520
Toll Free:
888-293-6883
Fax:
843-727-3103
E-mail:
mbrickman@rpwb.com
Areas of Practice
Michael J. Brickman
Member
Michael Brickman is a skilled trial attorney and legal strategist who has devoted his career to representing consumers in complex legal matters against the world's largest corporations.  He is a founding member of RPWB.
From confronting anti-competitive and unscrupulous business practices to helping those harmed by dangerous products, Michael is known for taking on challenging cases in emerging areas of the law that benefit workers, consumers and ordinary investors.
Michael was born in Charleston, South Carolina, where his love of the law developed at a young age thanks to his father, Jack Brickman, who continued to practice law until he died at the age of 95.  Michael earned a history degree from Harvard University and his law degree from the University of South Carolina School of Law.  After law school, he worked for his father, who then adopted the firm's motto of 'there's no case too small now that Michael's here.'  This led Michael to appear in virtually every court there was from traffic court to divorce court to the South Carolina Supreme Court.
Michael has spent a large part of his career fighting for workers who are seriously injured on the job due to dangerous products and dangerous workplaces.  He traveled throughout the world helping workers who were harmed by asbestos exposure.  In 2003, Michael won a $250 million verdict on behalf of a US Steel employee who developed mesothelioma while working two jobs to support his family.  In addition, Michael has successfully represented coal workers who develop respiratory diseases such as pneumoconiosis and silicosis from improper ventilation in mines.
Michael has also worked on behalf of consumers hurt by corrupt business activity.  Examples of his work on behalf of consumers include several winning antitrust class actions related to price-fixing by the manufacturers of magnetic audiotape, videotape and other data storage tapes as well as those who supplied magnetic iron oxide for the products.
Michael has pursued multi-district litigation against oil companies and gas station operators for failing to account for the temperature of gasoline and its effect on the value of the gasoline sold to consumers, resulting in settlements with numerous oil companies and distributors.
In the financial sector, Michael has worked on behalf of ordinary investors and consumers, by bringing actions against mutual funds for charging excessive fees, banks for rigging markets and insurance companies for incorrectly calculating risk premiums and failing to provide coverages promised.
Michael has also successfully handled medical and pharmaceutical malpractice cases.  He currently has several such cases in various stages of litigation.
Michael is married to the former Tippy Stern.  They have two sons.  Michael is a devout NY Yankees, NY Giants and Boston Celtics fan.  In addition he is an avid reader, who typically has two or three books all going at any given moment, which he admits causes him to confuse plot lines and topics.
1978, South Carolina
1978, Supreme Court of South Carolina
1979, U.S. District Court, District of South Carolina
1986, U.S. Court of Appeals, Eleventh Circuit
1988, U.S. Court of Appeals, Fourth Circuit
2004, U.S. District Court, District of Colorado
2007, U.S. Court of Appeals, Seventh Circuit
2008, U.S. Supreme Court
2010, U.S. Court of Appeals, Ninth Circuit
2011, U.S. District Court, Eastern District of Wisconsin
2011, U.S. District Court, Northern District of Florida
University of South Carolina, J.D., cum laude, 1978
Harvard University, B.A., magna cum laude, 1975
Professional Memberships
+
Best Lawyers in America
Martindale-Hubbell Rated: AV
South Carolina Association for Justice
University of South Carolina Law Review, Member, 1977-1978
"Moving Beyond Gartenberg: A Process-Based and Comparative Approach to Section 36(b) of the Investment Company Act of 1940," Review of Banking and Financial Law, Vol. 28, No. 1, 2009.