RPWB Welcomes a New Member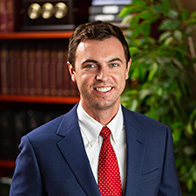 Matt Nickles, who has worked as an associate at our firm since 2014, became a member at the beginning of this year.
Nickles focuses on medical malpractice, nursing home neglect, catastrophic personal injury, premises liability, product liability, class actions and other complex litigation. He is experienced in litigating medical malpractice and pharmacy liability cases, including the case of a young girl with developmental disabilities who died as a result of being prescribed a fatal dose of phenobarbital.
A native of Columbia, Nickles was exposed to the law at an early age. His mother worked as general counsel for the state Department of Social Services and his father is a well-known attorney who took on the video poker industry.
It was those early experiences and the stories told around the dinner table that sparked an interest in the law. Nickles graduated with a degree in European history from Washington & Lee University and a law degree from the University of South Carolina School of Law.
During law school, he interned for the Honorable Margaret Seymour, a federal judge in the District of South Carolina, and clerked for RPWB.
Following graduation, he worked for a Columbia defense firm, Walker Reibold, before spending two years as a law clerk for the Honorable Richard Gergel.
We are thrilled to have him as a part of our membership.
Our Experienced Lawyers